A bright future for iceScrum
February 23, 2016
You are currently looking at the future of iceScrum! Well… at least a part of it. Indeed, the visual identity of our website will soon be shared by our tool, and it is just one of the many improvements we are preparing for you…


With years of experience and enlightening feedback from our users and customers, our vision of iceScrum kept evolving until a point where the current version, iceScrum R6, had shown its limits. Indeed, it hindered our ability to offer you the great tool we think you deserve: the best of iceScrum but easier to use, multi-support, more consistent, more customizable and more intelligent.
That's why, more than two years ago, the seed of a brand new version has been planted under the name "iceScrum R7".
Our idea consists in two simple parts:
Address today's needs for the best agile project management tool by improving upon iceScrum R6 in every aspect thanks to the experience and feedback we have gathered.
Give iceScrum the ability to adapt to future feedback and to the continuous improvements made in the field of agile methodologies.
To materialize this idea, we chose to:
On the surface: keep the best of iceScrum and deliver it under a more consistent and enjoyable user experience, in addition to sensible new features.
Under the hood: re-build iceScrum on top of modern and robust technology that will give us a solid foundation to ensure years of maintainability and improvability.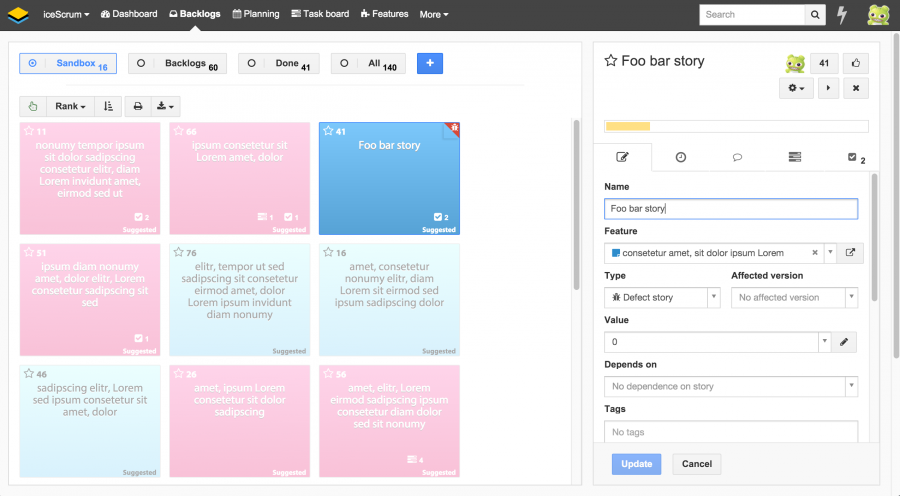 As eager we were to fulfill this promise, we did not let down our faithful users and customers and kept improving iceScrum R6. In parallel, we started iterating on the R7, both on the user interface in collaboration with UI/UX experts and early testers that provided an insightful feedback, and on the technical foundations.
In a lean startup fashion (if you don't know lean startup yet, we highly recommend that you have a look at it!), we have pivoted a few times until we found an effective and simple way to provide the rich interactions required by agile project management. Sprint after sprint, we delivered user stories and today we are happy to say that iceScrum R7 is very close to beta!
If you want to be part of early R7 testers or if you just have anything to say about theses news, let us know in a comment!
Published in agile, news, R7, scrum
About the Author:

Nicolas Noullet works with Agile Methods, and in particular with Scrum, since 5 years at least. After joining Kagilum, he became the most active contributor on the iceScrum tool. Today he shares his time between training / teaching and the iceScrum development.