R6#14.14
Here is the new and probably the last version of iceScrum R6. Its only purpose is providing iceScrum Standalone R6 users with the ability to migrate their projects to iceScrum v7. If you use iceScrum Cloud, you will have to wait a little longer before the migration is available but don't worry it's our highest priority right now!
If you don't know about iceScrum v7 yet, have a look at this page: https://www.icescrum.com/your-new-icescrum/.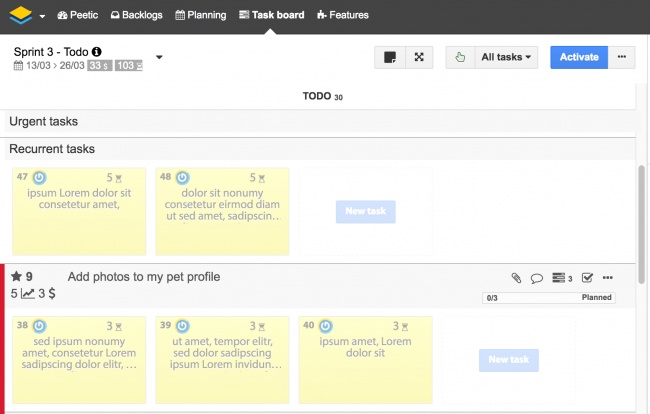 The migration from iceScrum R6 to iceScrum v7 cannot be done on your existing server. You will need to install v7 on a new server and migrate your projects by exporting them from R6 and then importing them into v7.
Thus, this new version adds a new "Export to v7" button below the regular "Export" one in the project menu. That means that you will need to migrate every project individually. This may takes some time but we promise that it is worth it.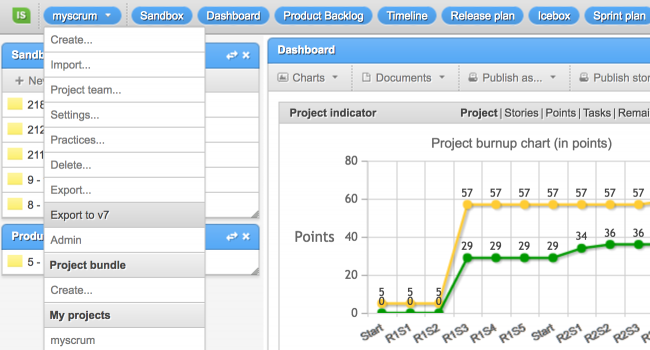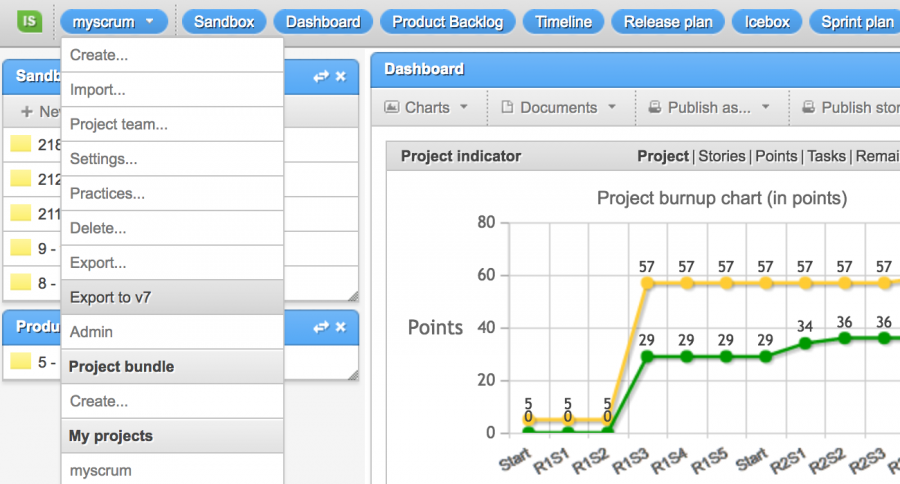 Once you have installed it by following the regular upgrade procedure, the first step toward the migration of your projects will be done. Read the migration procedure in order to learn about the next steps!
Even if you don't plan to upgrade to v7 soon, there is really no downside to upgrading to R6#14.14!
Download icescrum.jar R6#14.14
Download icescrum.war R6#14.14
7.0.0-beta.7
Here comes iceScrum 7.0.0-beta.7.
This version brings the "Team availability" feature back, making a new step towards a final release. It works as before, including the recent addition of the useful Sprint Burndown Chart that compares the remaining time to the remaining availability.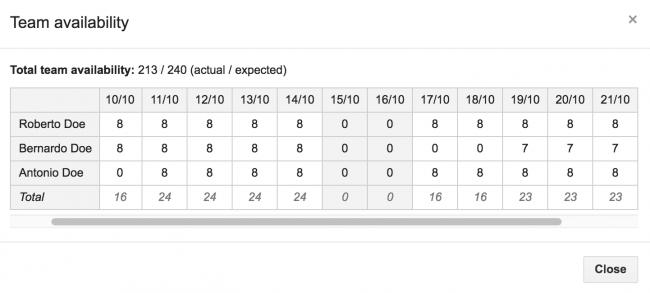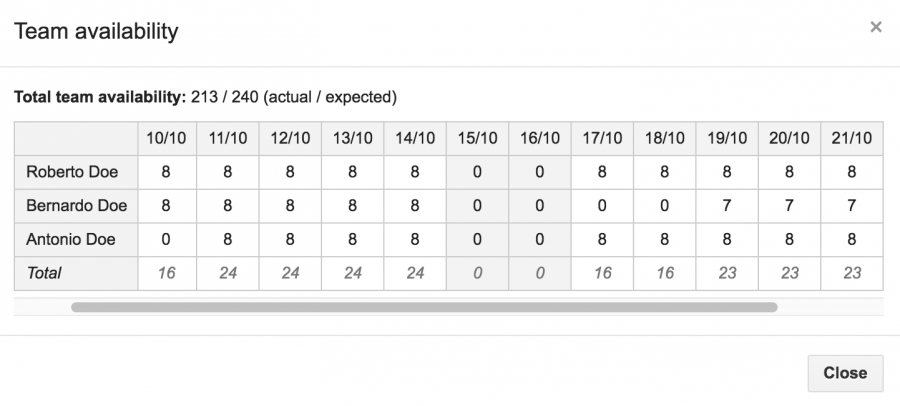 Apart from that, this new beta also fixes a few bugs and improves the overall performance of the application.
We are now implementening the last "must-have" features so are now very close to the functional scope we want for a first public release!
Thanks for all the great feedback we receive. We are very glad to know that this version will be enjoyed both by our longstanding users and the newcomers.
7.0.0-beta.6
Here is a new iceScrum 7: 7.0.0-beta.6.
A promised, after Git/SVN integration we worked on another big iceScrum Pro feature: integration with bug trackers, namely Bugzilla, Jira, Mantis, Redmine and Trac.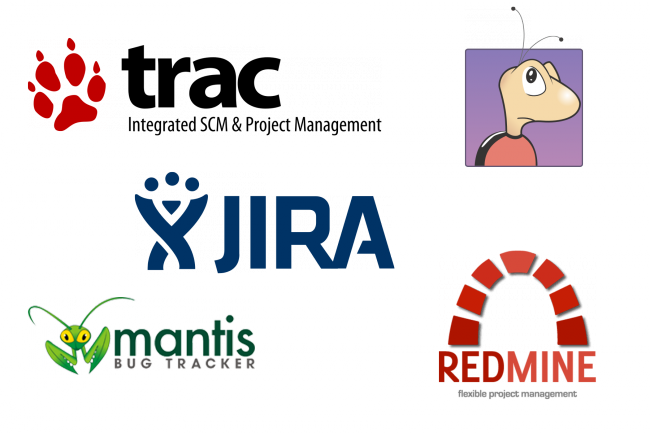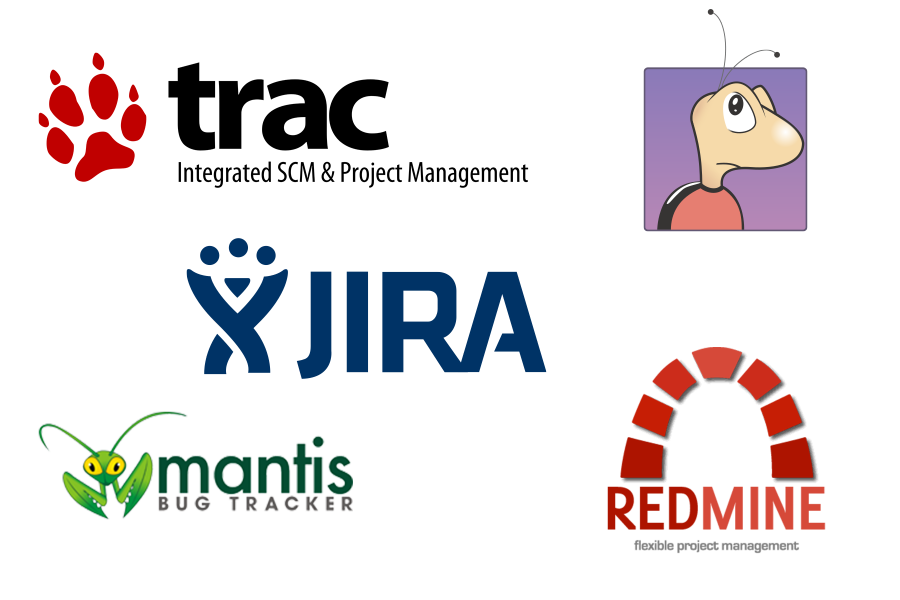 These integrations work quite like before (here is the old documentation for reference: https://www.icescrum.com/documentation/bug-trackers/).
A nifty addition is that you can now apply a story template (including features, tags, tasks and acceptance tests…) to stories imported from your bug tracker. For the record, story template allow prefilling stories with data taken from an existing story which serves as a model.
Open your project settings http://beta.icescrum.com/ and configure your integration!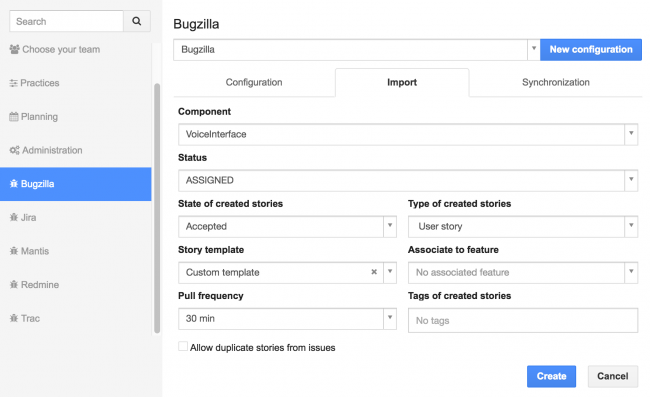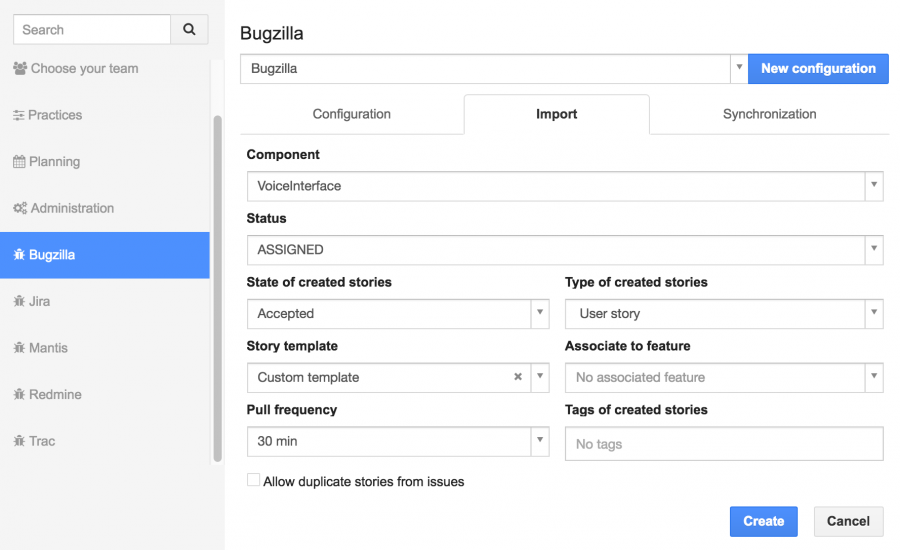 This version comes with other improvements:
The "Home" menu is now included in the title bar to be readily at hand when you need it
The "Dashboard" menu title has been renamed to be the project name
The first menu (you can change menus order by drag and drop from the menu icon) will be opened by default when opening a project
Better error handling on the server side
Better error handling and rendering to end users
Better visual clues for story selection in the task board
We took some time since the last release, partly because we also released a maintenance version of iceScrum R6 (R6#14.11) and we moved our main office to an awesome new location, you may hear more about it soon!
7.0.0-beta.5
A new iceScrum 7 beta is here: 7.0.0-beta.5.
As planned, this version comes with Source Code Management and Continuous Integration (Git, SVN, Jenkins…).
For the moment, they work like before (here is the old documentation for those who don't know about these integrations: Git & SVN – Jenkins).
That means that you can know link your commits to iceScrum Tasks and Stories and get the latest build status on your project Dashboard!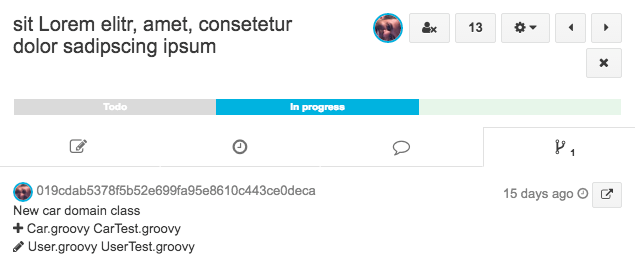 We did not choose this feature by accident, in the "Eating your own dog food" mindset we can now link our commits to our public project.
Try this version on http://beta.icescrum.com/.
We plan to continue releasing big features to get closer to the general availability, stay tuned!
7.0.0-beta.4
The fourth version of iceScrum 7 beta is now online: 7.0.0-beta.4.
Improvements:
Velocity, capacity & remaining time in Task board
Medium post-its by default in backlogs and features view
Bug fixes:
Loading logo has no color on IE11
On IE11, when displaying details panel, details info are not displayed and post-it layout doesn't adjust
Missing post-it color on IE11
Too large details panel on firefox
Tab is lost when selecting a story from another in the task board
Project validation error is duplicated
Validation errors for project name/key and user username/email aren't explained
Wrong ID on feature post-it
"In progress" urgent task limit prevents moving any task to "in progress" regardless of the actual limit
Emptying a field with rich text doesn't isn't effective without refreshing the UI
Open http://beta.icescrum.com/ to try this version!
As promised, we try to push the pace of releases. After making the beta more robust, it's time to bring big features to get closer to the general availability. Our next sprint is dedicated to porting and improving the SCM integration (Git, SVN, Jenkins…) feature! Stay tuned!
7.0.0-beta.3
Here comes a third version of iceScrum 7 beta: 7.0.0-beta.3. Unlike previous versions, this one doesn't bring much visible changes. However, we worked a lot under the hood to provide more consistency and stability. Here are the main improvements and bug fixes:
Improvements:
Big overhaul of error management
New order in story and task details view to better follow the workflow
Better defaults for post-it size in Planning and Task board views
Bug fixes:
Task name is too short in details view when the task is done
"Context" search by tag / feature doesn't work properly in Task Board
Missing color in table view
Open http://beta.icescrum.com/ to try this version!
We took some time to release this version because of holidays. We should now publish news and improvements at a faster pace, stay tuned!
A week ago, we were glad to publish the first Beta of the version that embodies the future of iceScrum!
iceScrum Version 7 Beta
If you did not hear about it yet, you can read the blog post named "A bright future for iceScrum".
First, we would like to thank our early users for their encouraging and insightful feedback! We are glad to see that you like this new version and we will do our best to make it even better thanks to your comments.
If you haven't tried it yet, just use your existing iceScrum.com account (or create one, it's free!) and open http://beta.icescrum.com/.
A sample project is automatically created for you and you can play with as you want. This version is free and unlimited and it will not affect your existing subscriptions in any way. Thus, you can also freely create new projects. Just keep in mind that we may not be able to keep your data as this is still an early stage of the Beta.
Release pace
We will try to keep a good pace by releasing new versions often and keeping you updated through blog posts such as this one.
This new version is the occasion to adopt a clear and broadly use version number pattern, inspired by Semantic Versionning. It should help keep up with version updates.
7.0.0-beta.2
Speaking of updates, we have just deployed the first update of the Beta version: 7.0.0-beta.2. Here are the main improvements and bug fixes:
Improvements:
Change and remember display mode for core items: post-its (several size) or table rows


User avatar in project context has a border colored according to the user role
Sprint list dropdown in Task Board to easily switch between sprint
Automatically hide done tasks if more than 4 of them to focus on current work
Caret on post-it "gear" icon to make it clear that it's a menu
Display suggestions of stories with similar name when creating a story
Improve automatic focus on form after submitting data to avoid unnecessary clicks
Remove previous state from browser history after removing an item
Display star icon on story post-it only when the use follows it to reduce visual noise
Bug fixes:
A registered user cannot create stories on a public project
Links in notifications are broken when not in a project
Deleting a sprint with not done tasks fails
Sprints duration is one day more than the configured duration
There is no way to change the default sprint duration for a project
The "Auto planning" menu should not be listed on a "in progress" sprint
List of stories candidate to be planned don't follow the backlog priority order
Flickering when selecting a story after deleting another one
The UI is not refreshed on mobile networks that use cache
Missing i18n
Changing the feature of a story causes the UI to freeze
Removing tags from an item require refreshing the page to be visible
"Unauthorized" error doesn't properly redirect to the home
Effort field not displayed in details just after accepting a story
Various UI fixes
Go to http://beta.icescrum.com/ to try this version!
What's next?
The beginning of the Beta stage was dedicated to ensure that everything works smoothly.
The first results are really encouraging and so we are preparing the Roadmap to inform you about the steps that will lead to the general availability!
Any comment or question about this version? Let us know in the comments section below!
You are currently looking at the future of iceScrum! Well… at least a part of it. Indeed, the visual identity of our website will soon be shared by our tool, and it is just one of the many improvements we are preparing for you…


With years of experience and enlightening feedback from our users and customers, our vision of iceScrum kept evolving until a point where the current version, iceScrum R6, had shown its limits. Indeed, it hindered our ability to offer you the great tool we think you deserve: the best of iceScrum but easier to use, multi-support, more consistent, more customizable and more intelligent.
That's why, more than two years ago, the seed of a brand new version has been planted under the name "iceScrum R7".
Our idea consists in two simple parts:
Address today's needs for the best agile project management tool by improving upon iceScrum R6 in every aspect thanks to the experience and feedback we have gathered.
Give iceScrum the ability to adapt to future feedback and to the continuous improvements made in the field of agile methodologies.
To materialize this idea, we chose to:
On the surface: keep the best of iceScrum and deliver it under a more consistent and enjoyable user experience, in addition to sensible new features.
Under the hood: re-build iceScrum on top of modern and robust technology that will give us a solid foundation to ensure years of maintainability and improvability.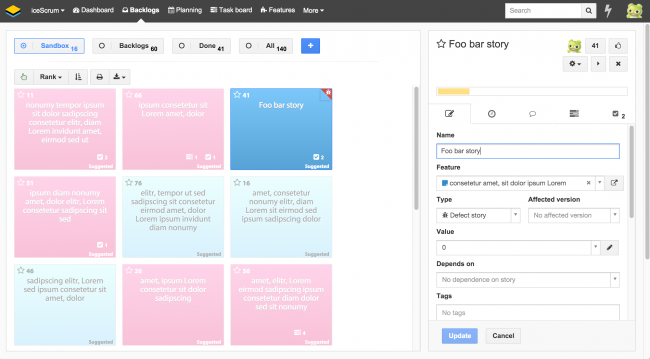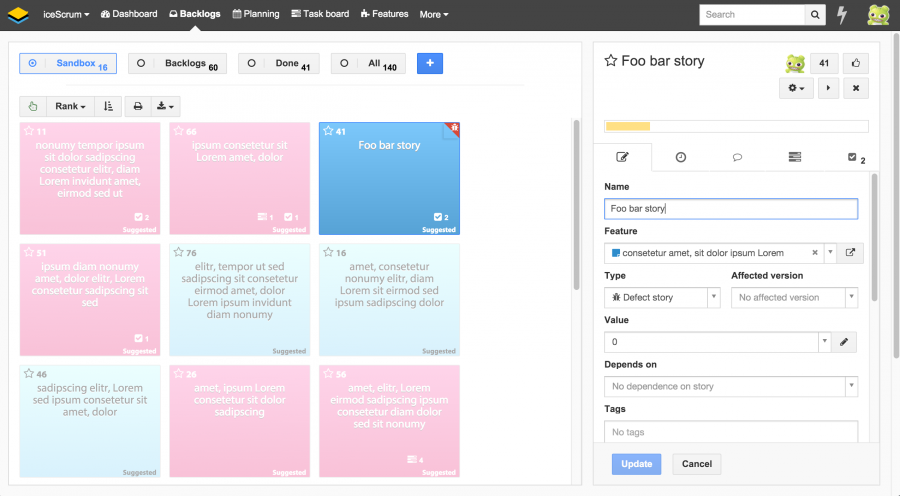 As eager we were to fulfill this promise, we did not let down our faithful users and customers and kept improving iceScrum R6. In parallel, we started iterating on the R7, both on the user interface in collaboration with UI/UX experts and early testers that provided an insightful feedback, and on the technical foundations.
In a lean startup fashion (if you don't know lean startup yet, we highly recommend that you have a look at it!), we have pivoted a few times until we found an effective and simple way to provide the rich interactions required by agile project management. Sprint after sprint, we delivered user stories and today we are happy to say that iceScrum R7 is very close to beta!
If you want to be part of early R7 testers or if you just have anything to say about theses news, let us know in a comment!
Hello everybody,
We are back this week to announce you the launch of not one, but two new iceScrum products!
iceScrum users asked us for improvements regarding our offers for iceScrum Pro Standalone, to be more flexible in our offers and adapt to our customers needs. That is why we created those two new offers. Let me introduce them to you:
Standalone "Startup" License:
This new license is the little sister of what we used to call the "iceScrum Pro license" (which will now be called "Enterprise" license). Named "Startup" license, it provides access to all the iceScrum Pro features to a single team, on a private server. It perfectly suits the needs of startups with a small budget or companies starting to use the Scrum methodology and wants to "try it first" on a small scale.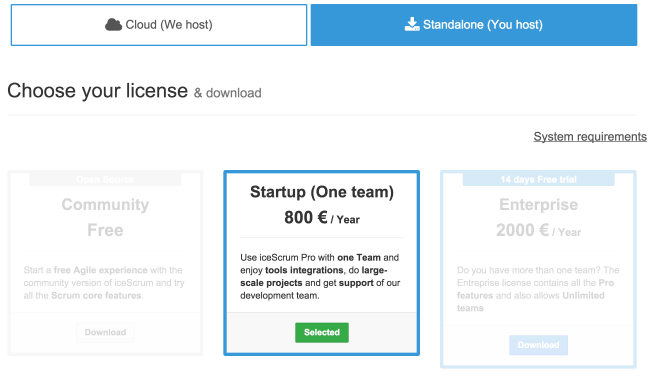 Standalone "Life" License:
We decided to call the second new license "Life". This idea came from a simple question :
You like us and we like you too, so:  Why not say "I do" to each other and for ever?! This is the goal of this "life" license, give you an eternal access to our best product and support. And the longer you use it, the cheaper it gets!
You will find those two new licenses on the "Pricing" page or on your personal account page.

The new R6#14.1 is also available since the beginning of the month. It came with many improvements. If you missed this information you can refer to this blogpost where you will find all information on the improvements we brought with the R6#14.1.
Cheers and see you soon!
Hello Everybody,
We believe that teams are the cornerstone of agile project management and that it deserved to get more power in iceScrum. Cloud users get this for a long time but it is now available for everybody: a team can work on several projects.
This change has major consequences:
– teams now have a name,
– teams can be created and managed outside of a project,
– team roles (Team Members and ScrumMasters) are now separated from project roles (Product Owner and Stakeholders),
– the team owner has all permissions on the projects associated to the team (equivalent to the combination of Product Owner and ScrumMaster permissions).
You will find below a more detailed review of the change and we strongly recommend that you read it!
Roles
The Team Owner, which is the person who has created the team, now has full permissions on the project.
Apart from that, when upgrading to iceScrum R6#14 your roles will remain unchanged, the only thing that has changed is the way they are displayed to you. Until now, Team and Product roles were merged in a single list whereas they are now displayed separately:
– Team roles: Team members and ScrumMaster,
– Project roles: Stakeholder (available in private projects) and Product Owners.
Just like before, the only Project/Team role combination that is allowed is Product Owner/ScrumMaster. However you will now need to acknowledge this rule because roles you will probably be tempted to make combinations that are not allowed but iceScrum will not let you do so.
Read more about the roles in our documentation: Roles, teams & projects
Projects
Create a project
When you create a project, you can create a new team by typing its name or, unlike before, choose a team that you have created before. If you choose an existing team then you cannot update its member here.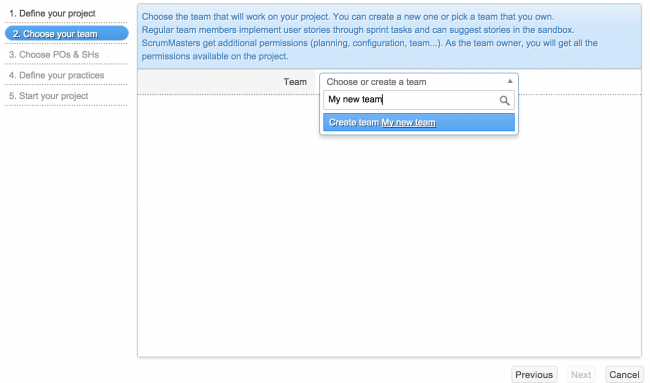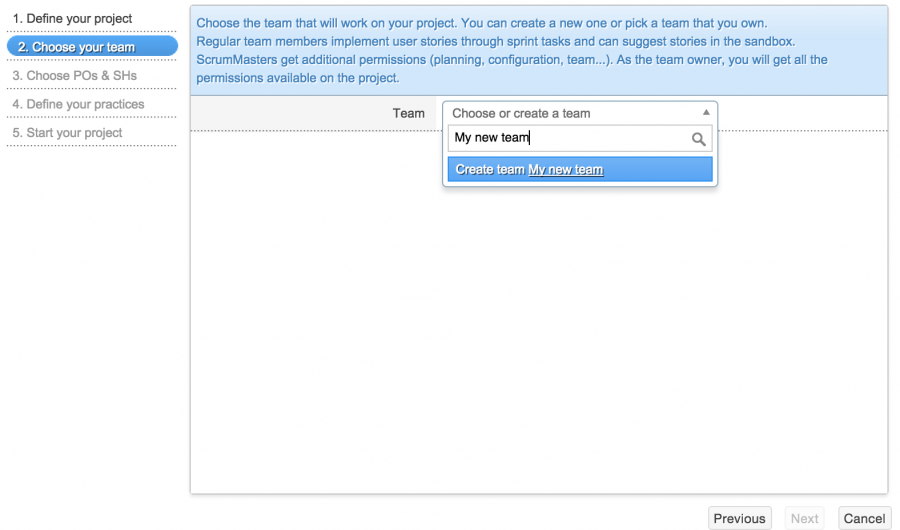 When you create a project, Product Owners and Stakeholders are now defined in a separate step. If you have trouble finding new Product Owners and Stakeholders, check that they don't have incompatible roles in the team.
Read more in the Getting started guide.
Update Product Owners and Stakeholders
Product Owners and Stakeholders have moved to the Project "Configure" dialog. Like before, they can be updated by the Owner and ScrumMasters. If you have trouble finding new Product Owners and Stakeholders, check that they don't have incompatible roles in the team.
Project Team
The former "Team" view has been replaced by a view named "Project Team" where you can see which team is associated to the Project, but unlike before the team members cannot be updated there. The owner can change the team associated to a project by choosing another team they own.
Teams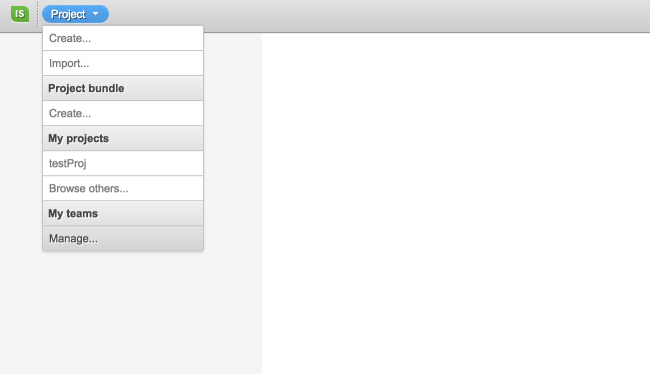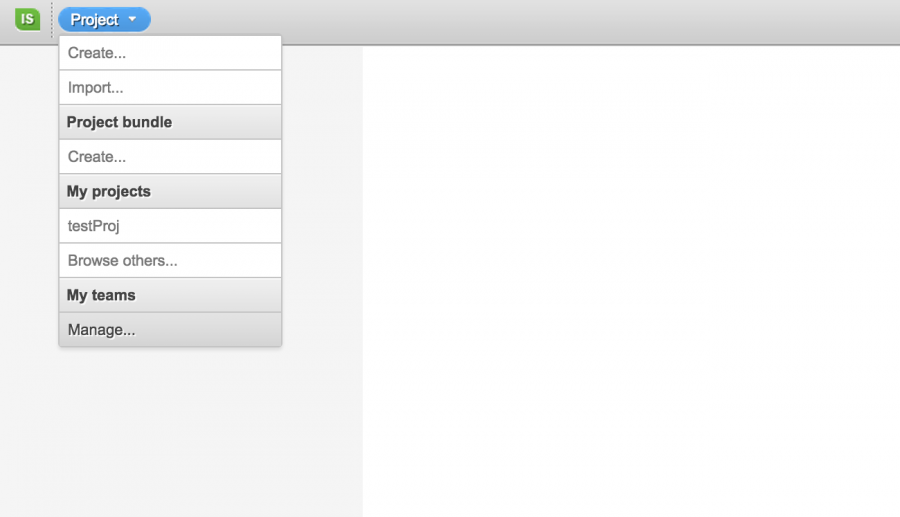 Create teams
You can now create a team outside of a project in the "Manage" team menu.
Update team members and ScrumMasters
The place were you can update team members and ScrumMasters has now moved to the "Manage" team menu. Like before, the Owner and the ScrumMaster can update the team members and choose which of them are ScrumMasters. They can also update the team name.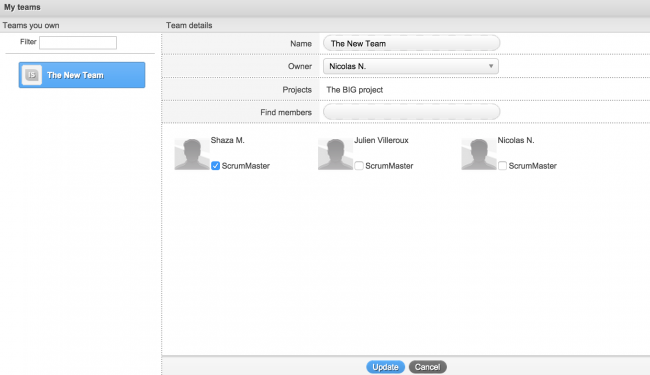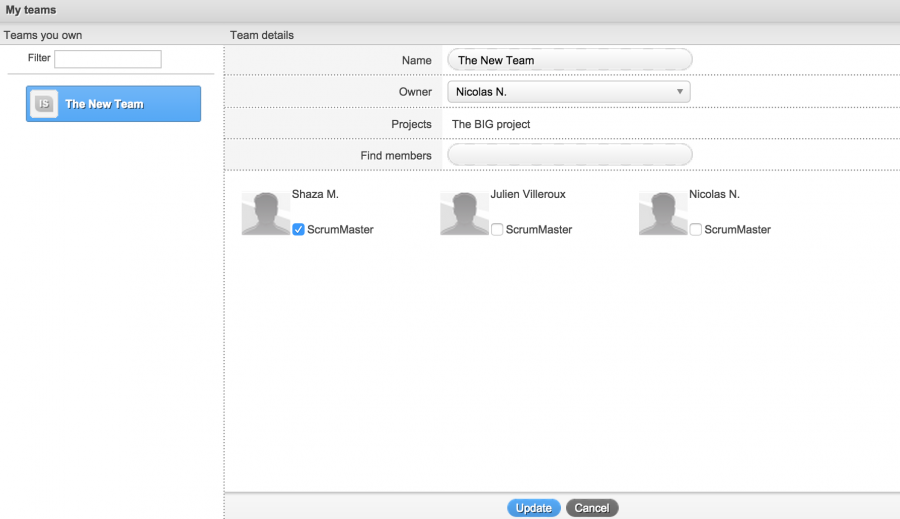 Delete a team
A team can be deleted by its owner if it is not associated to any project.
Invitations
This feature was already available in iceScrum Pro Cloud, it is now available to everyone: you can invite members who are not registered on your server. Read more about this feature in the documentation.