Edit: Previous R6#13 versions are replaced by R6#13.8. We recommend that you update in order to benefit from the following changes:
Improvements
R6#13.8: Batch administration of users: enable/disable/make internal/make external (iceScrum Pro)
Jira integration [many thanks to our customer who sponsored this story] (iceScrum Pro, Documentation)

Deleting an acceptance test requires a confirmation to prevent accidental deletion
Redmine integration [many thanks to our customer who sponsored this story] (iceScrum Pro, Documentation)

Trac integration [many thanks to our customer who sponsored this story] (iceScrum Pro, Documentation)

After Mantis BT and Bugzilla, here comes the Trac integration! You can now import stories automatically from Trac issues and define rules to update the issues according to the changes made on the corresponding stories. More integrations will come soon, stay tuned!

Excel mode for CSV export (iceScrum Pro)
Improved user search when choosing your team
Bug fixes
R6#13.8: Error on "publish stories as" in the sprint plan when stories have failed acceptance tests
R6#13.8: iceScrum version is not checked when using iceScrum Pro (iceScrum Pro)
R6#13.8: Issue import is stuck when there are both uniqueness and size issues on the name field (iceScrum Pro)
When creating a task with a name that is too large, the red error box displays no error which is a bit confusing
Availabilities from different sprint are mixed on the screen when they are changed at the same time by different users (iceScrum Pro)
Project settings take a long time to display because bug tracker remote fields are not cached (iceScrum Pro)
When copying a story, a notification is sent for each comment that is copied as if it was a new one
ICESCRUM-919 – External users (LDAP) should not be able to log in with their iceScrum password (iceScrum Pro)
ICESCRUM-916 – Bug tracker synchronization help tooltip message is incorrect (iceScrum Pro)
ICESCRUM-917 – Bugzilla authentication fails on recent bugzilla installations (iceScrum Pro)
ICESCRUM-918 – Email sent to SM because the bug tracker config is disabled due to errors should be sent only once (iceScrum Pro)
Name of issues (imported from bug tracker) that are larger than 100 characters are truncated to 20 instead of 100 characters (iceScrum Pro)
ICESCRUM-921 – Urgent task save often fails
ICESCRUM-922 – User filter is not applied properly in task list when using web services
ICESCRUM-920 – Project import doesn't work when invalid XML characters are used
ICESCRUM-923 – Initial remaining time is not recorded for "todo" tasks when a story is declared as done
ICESCRUM-664 – Impossible to create a project when the user language is Italian
We know it's been a long time since the previous release but please let us know that we don't forget you! Actually, we are designing a brand new iceScrum! Here is a glimpse of the new sandbox with custom post-it color: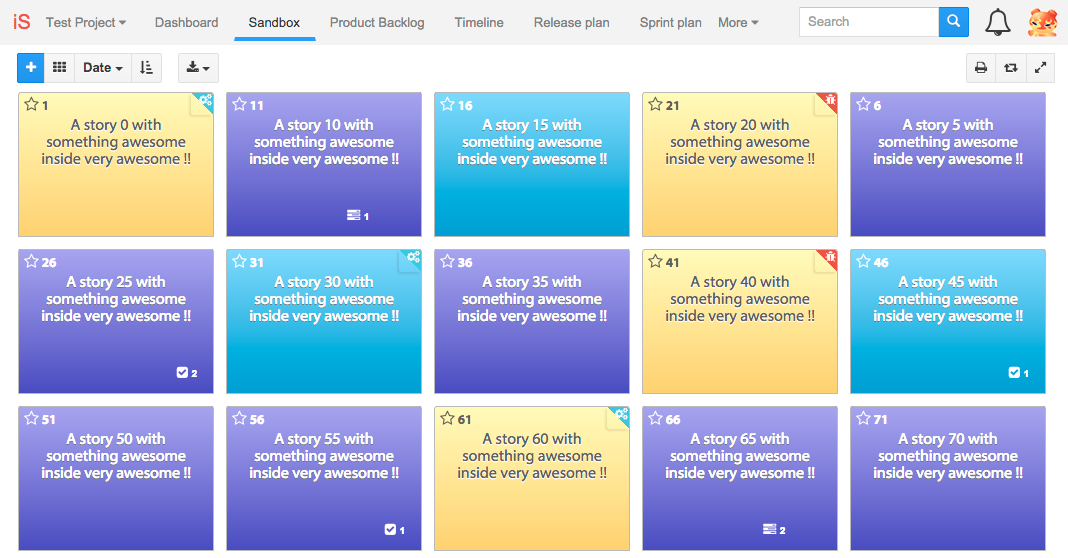 We would be please to hear your feedback! Stay tuned, there is more to come…
Hello everybody,
Here comes a new version of iceScrum and iceScrum Pro!
The R6#13 version brings some important bug fixes. We also developed a few improvements that should please you while waiting for the big changes that will come in iceScrum R7!
At first, we expected the previous version (R6#12) to be the last of the R6 series. However, we take all the time that is needed to experiment the ideas gathered last months and ensure that the new interface will make using iceScrum much more easier and pleasant. In the meantime, we don't want to leave you with annoying bugs so we decided to release another R6 version.
R6#13
Improvements
ICESCRUM-594 – Bugzilla integration [many thanks to TECH'advantage, the iceScrum Pro customer that sponsored this story] (iceScrum Pro, Documentation)

We promised additional bug trackers, after Mantis BT here comes the Bugzilla integration! You can now import stories automatically from Bugzilla issues and define rules to update the issues according to the changes made on the corresponding stories.

ICESCRUM-622 – Define custom tags on bug tracker import (iceScrum Pro)

ICESCRUM-649 – Custom story estimates

Until now, story estimates had to be chosen from either the Fibonacci or the Integer suite, there is now a third option called "Custom values". Will still strongly recommend the use of the "story points" empirical unit for story estimates. However, it is now entirely up to the teams to choose the values that are meaningful to them.

When custom values are enabled, you can estimate stories by typing any value between 0 and 999.99, with a precision of two decimal places.

ICESCRUM-652 – Update availabilities for done sprints (iceScrum Pro)
ICESCRUM-656 – Hide server configuration information when not logged in
Origin attribute added to the story API
Original issue link added to Mantis integration (iceScrum Pro)
Better logging and error handling on bug tracker integration (iceScrum Pro)
More file formats available on Google Drive integration for attachments
ICESCRUM-663 – Italian translation, many thanks to Alessandro
Bug fixes