7.0.0-beta.7
Here comes iceScrum 7.0.0-beta.7.
This version brings the "Team availability" feature back, making a new step towards a final release. It works as before, including the recent addition of the useful Sprint Burndown Chart that compares the remaining time to the remaining availability.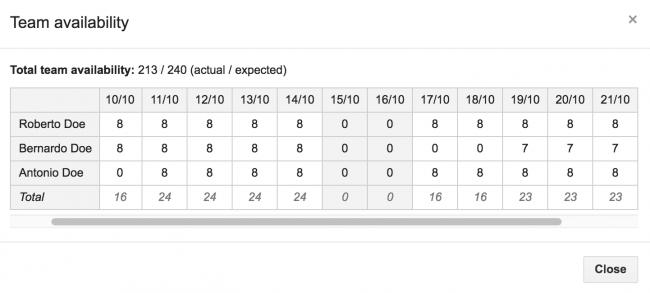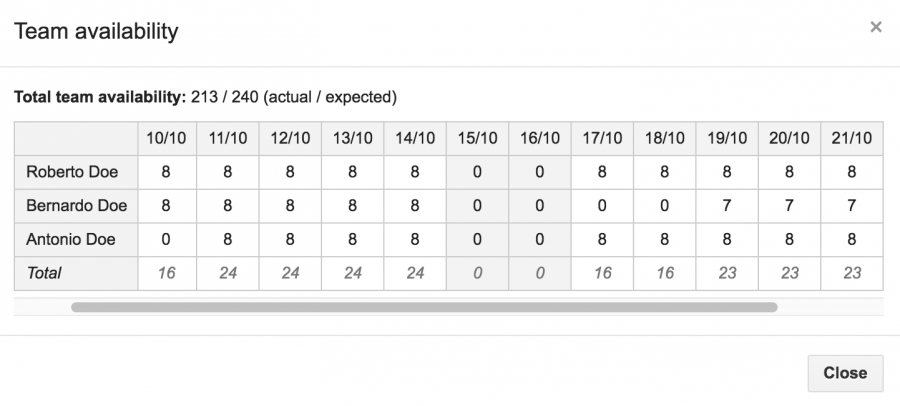 Apart from that, this new beta also fixes a few bugs and improves the overall performance of the application.
We are now implementening the last "must-have" features so are now very close to the functional scope we want for a first public release!
Thanks for all the great feedback we receive. We are very glad to know that this version will be enjoyed both by our longstanding users and the newcomers.
7.0.0-beta.6
Here is a new iceScrum 7: 7.0.0-beta.6.
A promised, after Git/SVN integration we worked on another big iceScrum Pro feature: integration with bug trackers, namely Bugzilla, Jira, Mantis, Redmine and Trac.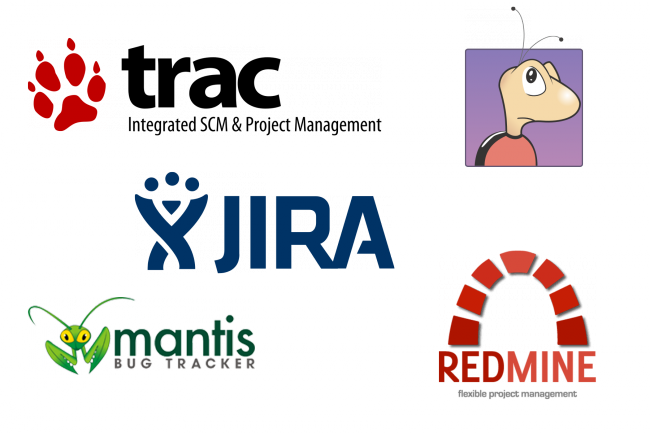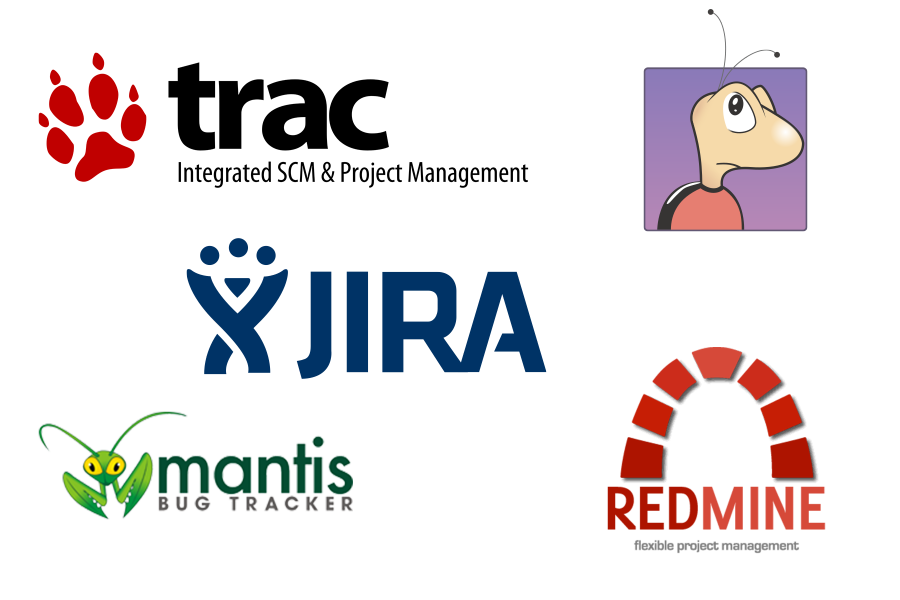 These integrations work quite like before (here is the old documentation for reference: https://www.icescrum.com/documentation/bug-trackers/).
A nifty addition is that you can now apply a story template (including features, tags, tasks and acceptance tests…) to stories imported from your bug tracker. For the record, story template allow prefilling stories with data taken from an existing story which serves as a model.
Open your project settings http://beta.icescrum.com/ and configure your integration!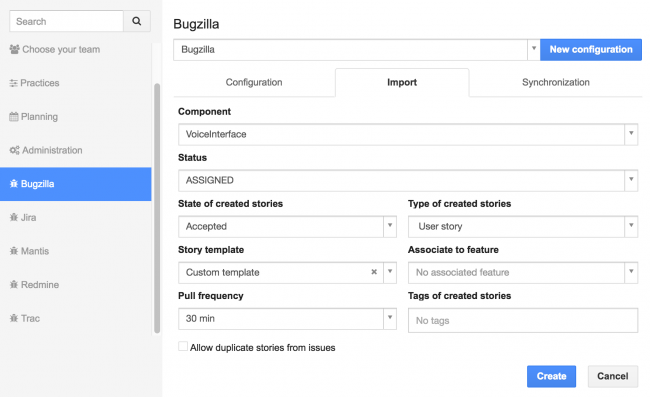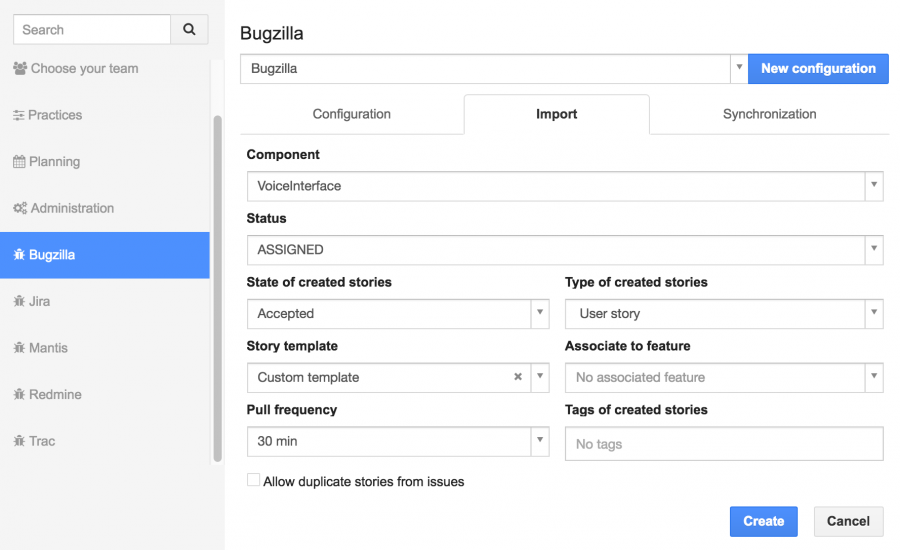 This version comes with other improvements:
The "Home" menu is now included in the title bar to be readily at hand when you need it
The "Dashboard" menu title has been renamed to be the project name
The first menu (you can change menus order by drag and drop from the menu icon) will be opened by default when opening a project
Better error handling on the server side
Better error handling and rendering to end users
Better visual clues for story selection in the task board
We took some time since the last release, partly because we also released a maintenance version of iceScrum R6 (R6#14.11) and we moved our main office to an awesome new location, you may hear more about it soon!
Hello everybody,
Here comes a new version of iceScrum and iceScrum Pro!
This version brings many changes, we hope that you will like them!
This post lists all the changes brought by iceScrum R6#14. It is updated when minor versions are released to fix bugs and add small improvements on top of this major version. Changes brought by such minor versions are identified by a label, e.g. R6#14.10. We recommend that you upgrade to the latest minor version, which is currently iceScrum R6#14.10.
New features / improvements
Team overhaul
We strongly recommend that you read this blog post.

Invite members by email (Documentation)
Assign a team to multiple projects
Switch the team of a project
The team Owner gets all the permissions on all the projects the team is working on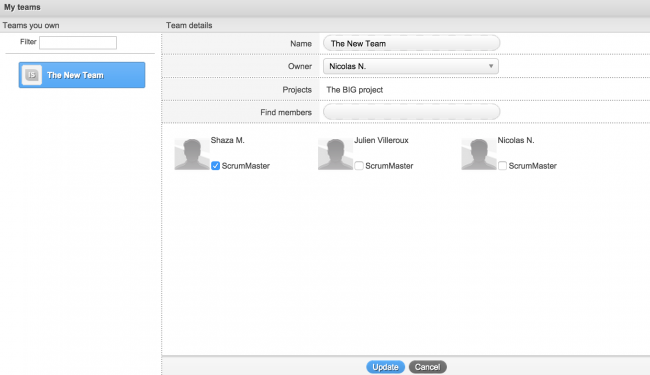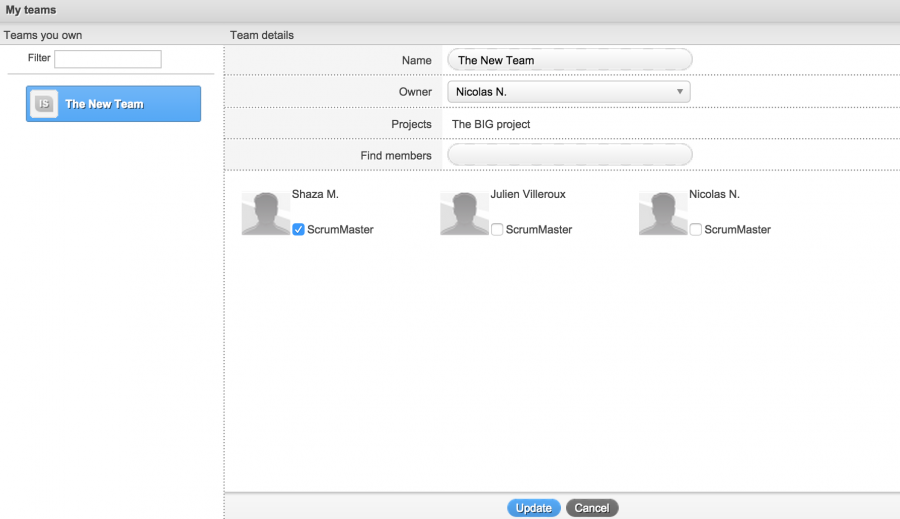 Collect feedback on a website as iceScrum stories (Documentation)

Pro


Have you noticed the "Feedback" button on the right of this website? It creates stories automatically in our iceScrum project. You can get the same thing for your website. Of course, feel free to use this one to provide your feedback about our new website!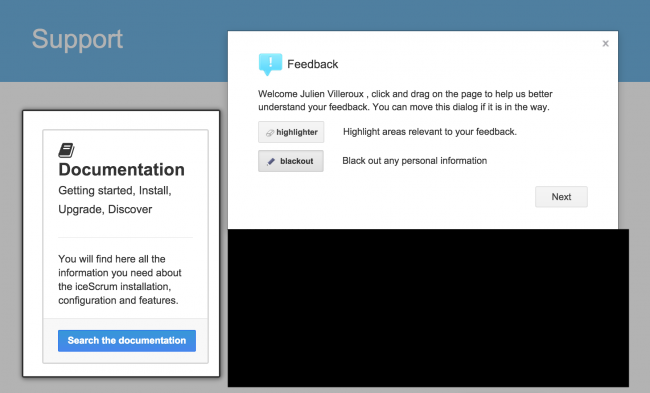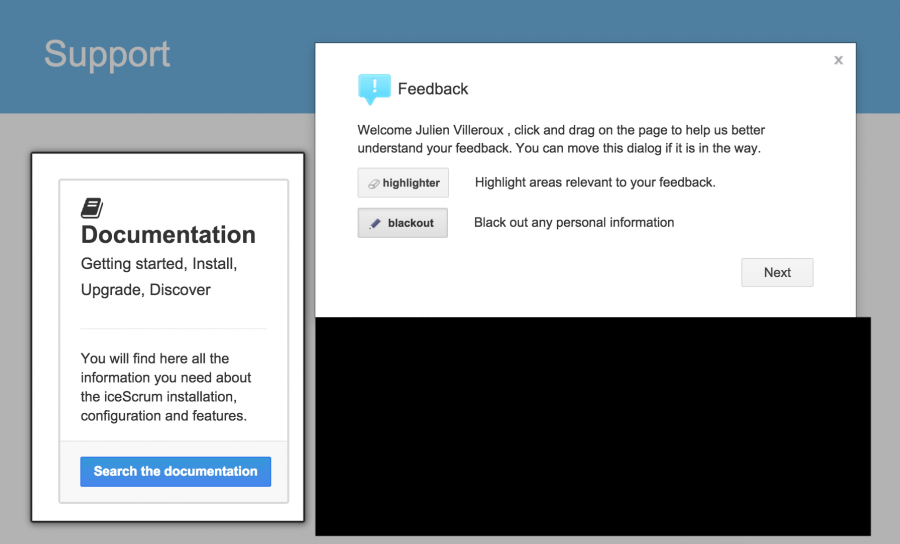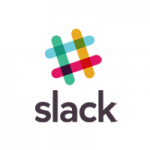 Pagination of projects and users in administration panels

Pro

Grant/remove administrator permissions to users (Documentation)

Pro

Switch to another user when your are the administrator (Documentation)

Pro

i18n improvements
User experience improvements
Case insensitive project search in "Browse others"
The chat feature was included only in iceScrum Pro, it is now accessible to everybody! (Documentation)

R6#14.2

New release as a .jar file that includes both iceScrum and Tomcat

R6#14.2

User-friendly wizard to help setup iceScrum after installation

R6#14.2

Guided tours of iceScrum to help newcomers

R6#14.2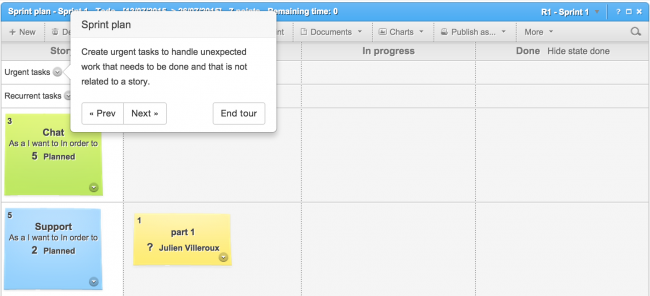 Easy switching to iceScrum Pro (no need to change .war file)

R6#14.2

New help tab in about page

R6#14.2

Automatic retrieval of iceScrum Pro license key from icescrum.com

R6#14.2

Pro

Last login date in user administration

R6#14.2

Pro

Search users in user administration

R6#14.2

Pro

Search projects in project administration

R6#14.2

Pro

Improvements in Email server configuration setup step

R6#14.3

Pro

The Oracle support was included only in iceScrum Pro, it is now accessible to everybody!

R6#14.3

Improve API GET queries speed thanks to faster XML/JSON marshalling

R6#14.5

Add truncated notes & description from bug tracker as story attachments

R6#14.7

Pro

Optional swallow Mantis SYSTEM NOTICE error

R6#14.7

Pro

Ability to update bug tracker import and sync rules

R6#14.9

Pro

Availability vs Remaining time Sprint Burndown (Documentation)

R6#14.10

Pro

Better Dashboard display performance

R6#14.11

New "All components" Bugzilla import rule option

R6#14.11

Pro

Drop obsolete Google Code support

R6#14.11

Pro

Support GitLab SCM integration through webhooks (Documentation)

R6#14.11

Pro
Bug fixes
Server settings which value includes special characters don't work

Pro

HTML attachments cannot be downloaded
Attachments Errors are not handled properly
There is no way to add Stakeholders when creating a project if projects are private by default

R6#14.1

Adding Stakeholders fails

R6#14.1

Duplicate screen on IE when managing teams

R6#14.1

Opening private archived projects fails

R6#14.1

HTML code in rich text fields is not displayed properly

R6#14.2

When the team owner is changed the new one cannot update Product Owners and SHs

R6#14.2

The error message displayed when a story cannot be moved because of its dependencies is not correct

R6#14.2

Reducing a release deletes out of bounds sprints even if they have tasks so they are lost without warning

R6#14.2

External users (LDAP) who are admin don't have administration permissions

R6#14.2

Pro

Logging in to a project you don't have access anymore leads to a misleading error message

R6#14.2

Pro

Missing MS SQL Server in DB setup wizard

R6#14.3

Error when updating the settings or practices of a private project

R6#14.3

Error when switching a public project to private

R6#14.3

Error when you want to change database type in the settings view.

R6#14.3

Pro

Error when creating a new team in a new project

R6#14.4

Closing a sprint from the release plan causes a JavaScript error

R6#14.4

When closing a sprint, not done stories are moved to the next sprint in a wrong order

R6#14.4

Story copy does not work in iceScrum Community

R6#14.4

An user who is given administration permissions cannot update projects they don't belong to

R6#14.4

Pro

An error is displayed when deleting a project which belongs to a bundle

R6#14.4

Pro

An error is displayed in the bundle timeline if there is no project

R6#14.4

Pro

Displaying a project dashboard when there are thousands of activities stored in the server is very slow

R6#14.5

Tooltips are not displayed when hovering over post-its

R6#14.5

ScrumMasters cannot change Product Owners / Stakeholders in project settings

R6#14.5

Publishing stories from the sprint plan sometimes fails

R6#14.6

Special characters in feature name are not displayed properly in feature selects in sandbox/backlog table view

R6#14.6

Closing a sprint from the sprint plan after declaring a story as done causes a JS error

R6#14.6

Updating a release sometimes fails

R6#14.6

Sorting users by external/internal in user admin fails

R6#14.6

Pro

Stories shifted to the next sprint come after already planned stories, they should come before instead

R6#14.7

Done stories are not displayed in sprint plan table view

R6#14.7

Redirection to server URL does not work on IE

R6#14.7

If notes imported from bug tracker are too large, an error is raised. They should be truncated instead

R6#14.7

Pro

When creating projet or changing its team, the search input doesn't filter the team list

R6#14.8

Searching teams in "My teams" as an administrator does not work

R6#14.8

Datepickers in the project creation wizard prevent using valid dates in some cases

R6#14.8

The window overflows without any way to scroll when closing a sprint with many stories

R6#14.8

The iceScrum main menu cannot be opened on a 13″ monitor when there are many projects and project bundles

R6#14.8

Displaying several HTML widgets in a single page raises errors

R6#14.8

Pro

It is possible to drop a task on "todo" and "in progress" column on a done story

R6#14.9

Logging in with wrong credentials doesn't display an error

R6#14.9

RSS link provided on private project with disabled web services don't work

R6#14.9

HTTPS doesn't work properly on the icescrum.jar release

R6#14.9

Bugzilla 5 is not supported in bug tracker integration

R6#14.9

Pro

iceScrum doesn't start on Oracle DBMS

R6#14.11

Pro

Status list is not displayed in Mantis BT Sync rules

R6#14.11

Pro
Upgrade procedure
iceScrum Pro Cloud or dedicated servers: we take care of upgrading for you
Others: depending on your installation, download icescrum.jar or icescrum.war here and follow the upgrade guide.
7.0.0-beta.5
A new iceScrum 7 beta is here: 7.0.0-beta.5.
As planned, this version comes with Source Code Management and Continuous Integration (Git, SVN, Jenkins…).
For the moment, they work like before (here is the old documentation for those who don't know about these integrations: Git & SVN – Jenkins).
That means that you can know link your commits to iceScrum Tasks and Stories and get the latest build status on your project Dashboard!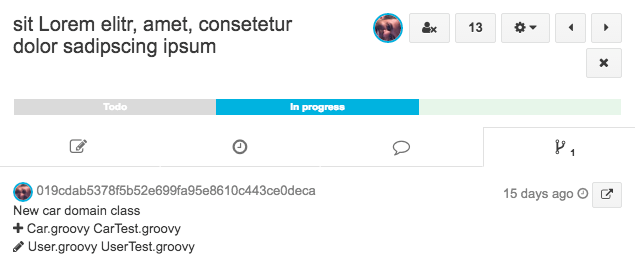 We did not choose this feature by accident, in the "Eating your own dog food" mindset we can now link our commits to our public project.
Try this version on http://beta.icescrum.com/.
We plan to continue releasing big features to get closer to the general availability, stay tuned!
7.0.0-beta.4
The fourth version of iceScrum 7 beta is now online: 7.0.0-beta.4.
Improvements:
Velocity, capacity & remaining time in Task board
Medium post-its by default in backlogs and features view
Bug fixes:
Loading logo has no color on IE11
On IE11, when displaying details panel, details info are not displayed and post-it layout doesn't adjust
Missing post-it color on IE11
Too large details panel on firefox
Tab is lost when selecting a story from another in the task board
Project validation error is duplicated
Validation errors for project name/key and user username/email aren't explained
Wrong ID on feature post-it
"In progress" urgent task limit prevents moving any task to "in progress" regardless of the actual limit
Emptying a field with rich text doesn't isn't effective without refreshing the UI
Open http://beta.icescrum.com/ to try this version!
As promised, we try to push the pace of releases. After making the beta more robust, it's time to bring big features to get closer to the general availability. Our next sprint is dedicated to porting and improving the SCM integration (Git, SVN, Jenkins…) feature! Stay tuned!
7.0.0-beta.3
Here comes a third version of iceScrum 7 beta: 7.0.0-beta.3. Unlike previous versions, this one doesn't bring much visible changes. However, we worked a lot under the hood to provide more consistency and stability. Here are the main improvements and bug fixes:
Improvements:
Big overhaul of error management
New order in story and task details view to better follow the workflow
Better defaults for post-it size in Planning and Task board views
Bug fixes:
Task name is too short in details view when the task is done
"Context" search by tag / feature doesn't work properly in Task Board
Missing color in table view
Open http://beta.icescrum.com/ to try this version!
We took some time to release this version because of holidays. We should now publish news and improvements at a faster pace, stay tuned!
A week ago, we were glad to publish the first Beta of the version that embodies the future of iceScrum!
iceScrum Version 7 Beta
If you did not hear about it yet, you can read the blog post named "A bright future for iceScrum".
First, we would like to thank our early users for their encouraging and insightful feedback! We are glad to see that you like this new version and we will do our best to make it even better thanks to your comments.
If you haven't tried it yet, just use your existing iceScrum.com account (or create one, it's free!) and open http://beta.icescrum.com/.
A sample project is automatically created for you and you can play with as you want. This version is free and unlimited and it will not affect your existing subscriptions in any way. Thus, you can also freely create new projects. Just keep in mind that we may not be able to keep your data as this is still an early stage of the Beta.
Release pace
We will try to keep a good pace by releasing new versions often and keeping you updated through blog posts such as this one.
This new version is the occasion to adopt a clear and broadly use version number pattern, inspired by Semantic Versionning. It should help keep up with version updates.
7.0.0-beta.2
Speaking of updates, we have just deployed the first update of the Beta version: 7.0.0-beta.2. Here are the main improvements and bug fixes:
Improvements:
Change and remember display mode for core items: post-its (several size) or table rows


User avatar in project context has a border colored according to the user role
Sprint list dropdown in Task Board to easily switch between sprint
Automatically hide done tasks if more than 4 of them to focus on current work
Caret on post-it "gear" icon to make it clear that it's a menu
Display suggestions of stories with similar name when creating a story
Improve automatic focus on form after submitting data to avoid unnecessary clicks
Remove previous state from browser history after removing an item
Display star icon on story post-it only when the use follows it to reduce visual noise
Bug fixes:
A registered user cannot create stories on a public project
Links in notifications are broken when not in a project
Deleting a sprint with not done tasks fails
Sprints duration is one day more than the configured duration
There is no way to change the default sprint duration for a project
The "Auto planning" menu should not be listed on a "in progress" sprint
List of stories candidate to be planned don't follow the backlog priority order
Flickering when selecting a story after deleting another one
The UI is not refreshed on mobile networks that use cache
Missing i18n
Changing the feature of a story causes the UI to freeze
Removing tags from an item require refreshing the page to be visible
"Unauthorized" error doesn't properly redirect to the home
Effort field not displayed in details just after accepting a story
Various UI fixes
Go to http://beta.icescrum.com/ to try this version!
What's next?
The beginning of the Beta stage was dedicated to ensure that everything works smoothly.
The first results are really encouraging and so we are preparing the Roadmap to inform you about the steps that will lead to the general availability!
Any comment or question about this version? Let us know in the comments section below!