All you need
for your Agile project management
Share your vision to help your teams deliver value
Too many projects fail because goals are not well understood by the people who actually build the product. iceScrum helps you materialize your vision, makes it visible to your teams and ensures that it stays up-to-date as business knowledge grows.

Actor
Business value
Feature
Prioritization
Product Owner
Release vision
Sprint goal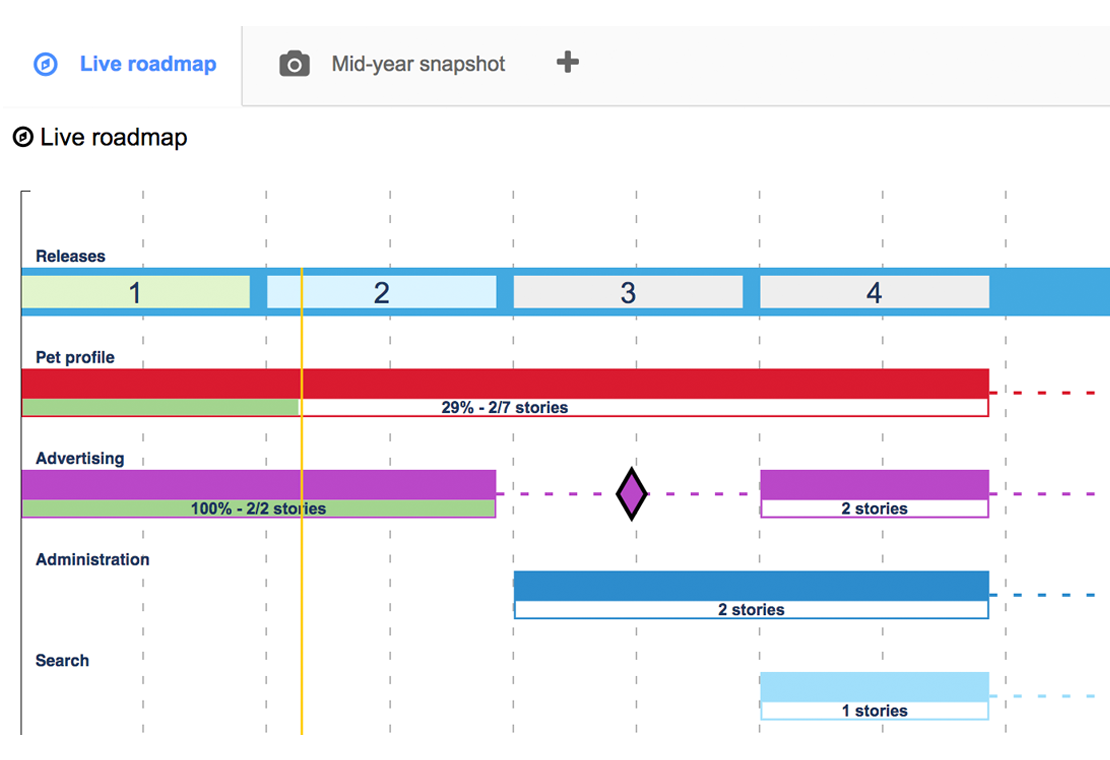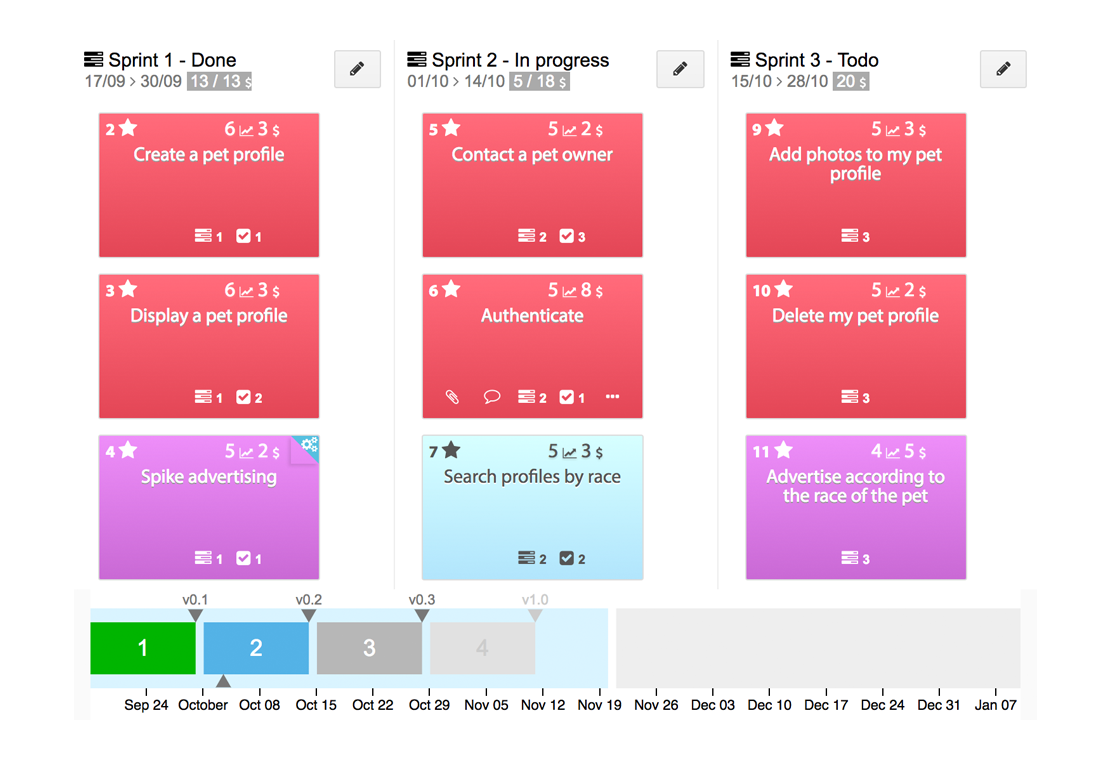 Plan milestones with confidence thanks to a rigorous empirical approach
Sticking to your initial schedule in a complex environment is hard. The rhythm of releases and sprints offered by iceScrum ensures that deadlines are always met and that the right amount of work is planned in every iteration to ensure predictable progress.

Capacity
Estimate
Release
Report
Sprint
Sprint goal
Story point
Timebox
Velocity
Communicate clear requirements to the development teams
iceScrum helps formalizing the main features of your product and organizing requirements as user stories with a simple yet powerful visual representation. Stories are the prime interface between the business needs and those who are able to answer them.

Acceptance test
Actor
Attachment
Comment
Defect story
Definition of done
Feature
Product backlog
Product Owner
Sandbox
Story dependency
Story splitting
Team member
User story
Virtual post-it
Visual management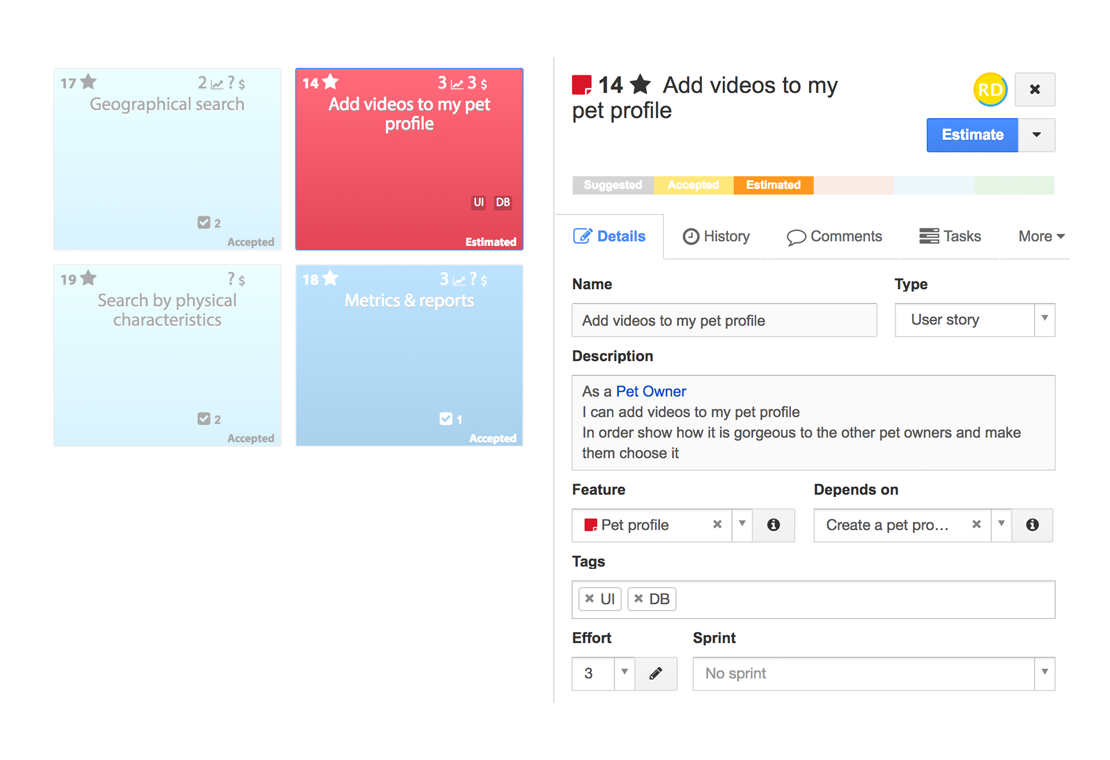 Shorten your time to market and maximize the return on investment
Prioritize stories in your product backlog to ensure that every sprint helps decrease risk, increases business knowledge and provides the most value according to the current vision, while keeping costs under control.

Business value
Estimate
Prioritization
Product backlog
Product Owner
Sprint goal
Leverage visual management to structure day to day team activities
Teams structure their work by splitting stories into manageable tasks and moving them in the scrum kanban board. This fosters communication and enables collaboration between team members, thus helping them reach sprint goals and deliver working stories.

Blocked task
Custom color
Recurrent task
Remaining time
ScrumMaster
Task
Task board
Team member
Urgent task
Virtual post-it
Visual management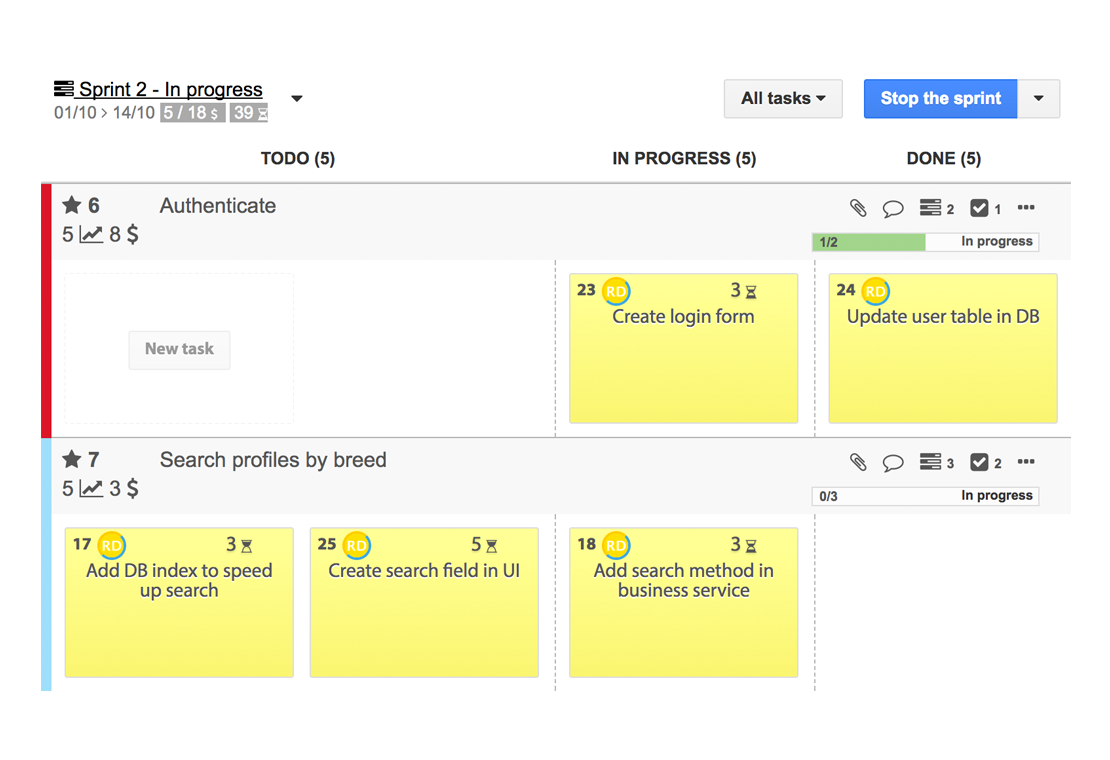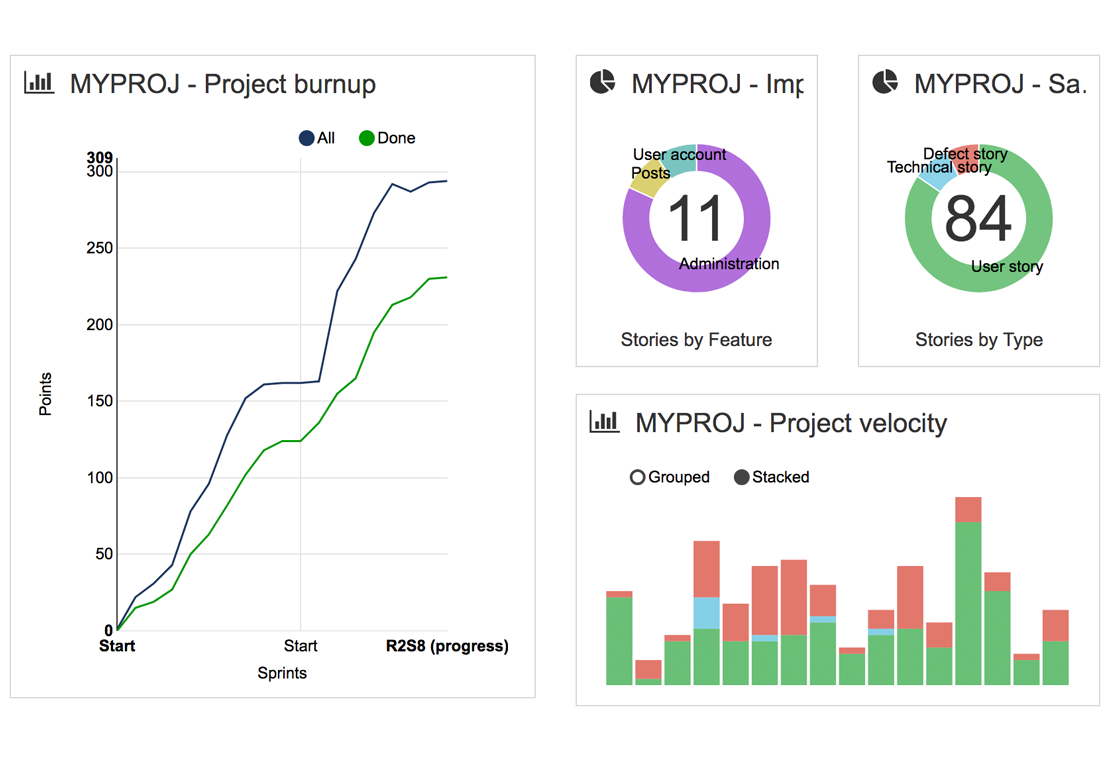 Track progress and monitor key indicators of success
Get a big picture of your projects through both agile and custom charts that allow you to make informed decisions and stay on target. Teams can also continuously inspect their work, adapt their practices and improve as they gain experience.

Agile chart
Custom chart
Custom dashboard
Project dashboard
Report
Retrospective
Velocity

Let a true agile tool guide you through your agile transformation
More than 10 years ago, iceScrum has been created from the very foundations of agile values by early experts of the domain. This makes it a firm basis for your agile practices and provides a great frame for teams learning agile methodologies.

Acceptance test
Agile practices
Definition of done
Release
Retrospective
Scrum items
Scrum roles
Sprint
User story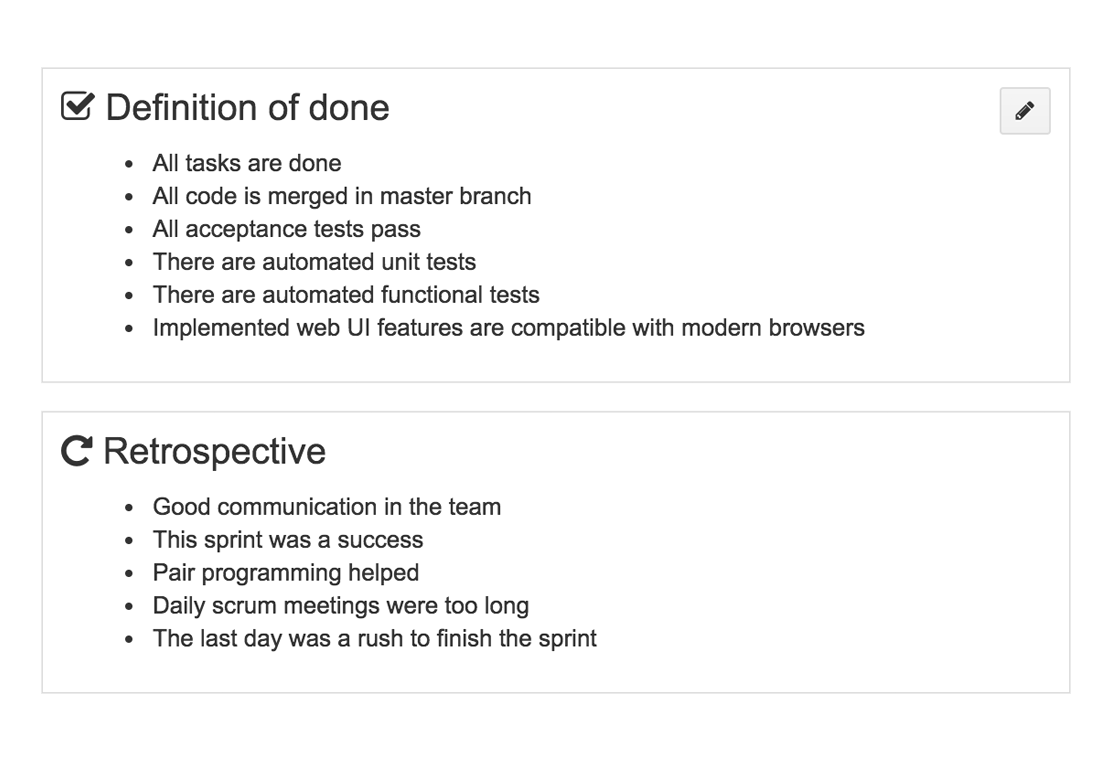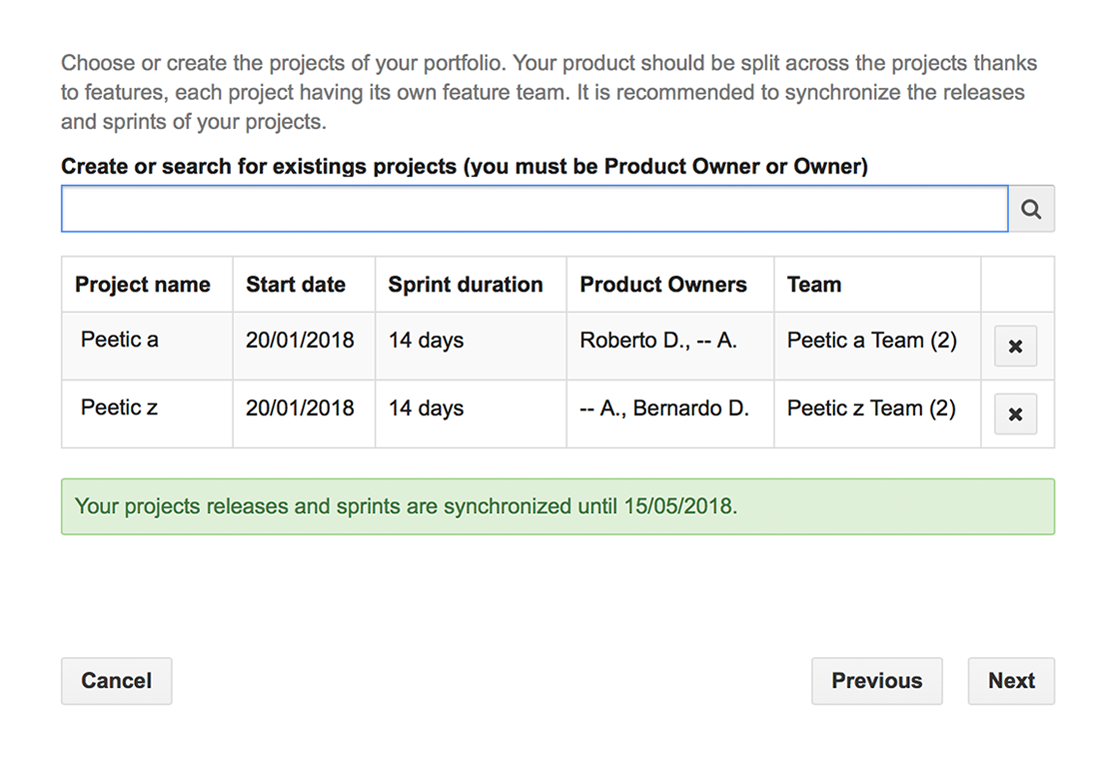 Manage large scale product development with portfolios
To build large products, a single agile team may not be enough. With iceScrum portfolios, scale up Scrum with ease, coordinate the work between your feature teams and get a high-level vision of their progress.

Agile chart
Custom dashboard
Feature
Project
Release
Sprint
Team
Visual management
Seamlessly involve your stakeholders to build a better product
Products are meant to deliver value to stakeholders, so involving them is key to build the right product. iceScrum helps them suggest ideas and keep them in the loop as product increments are delivered.

Comment
Public project
Release notes
Stakeholder
Visual management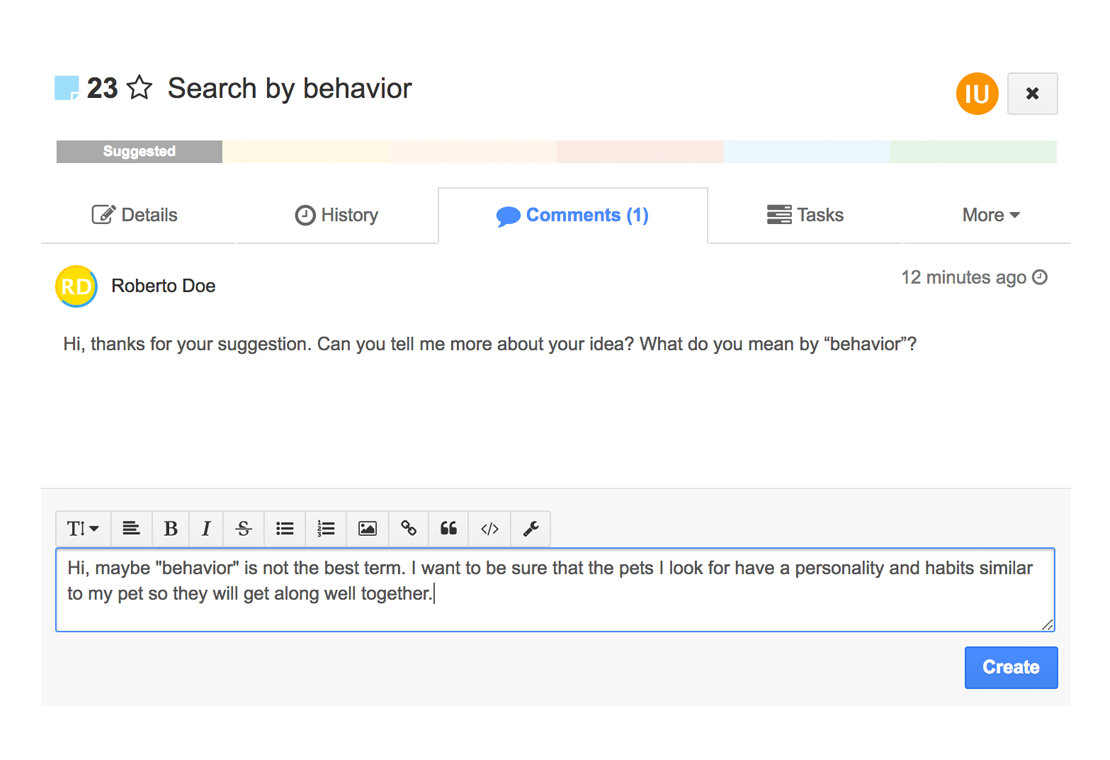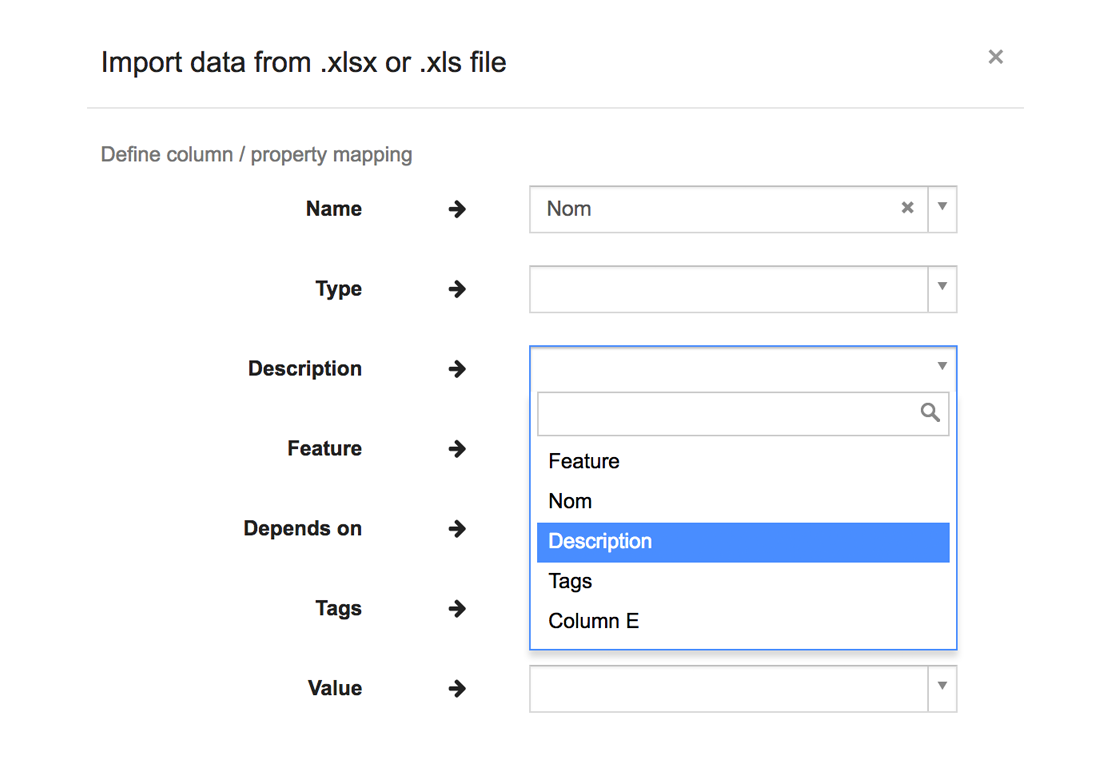 Integrate iceScrum with the other key tools of your organization
Automatically maintain traceability and data consistency between the tools that are essential to the success of your project thanks to built-in integration. For custom needs, you can extend iceScrum thanks to its rich REST API.

REST API