---
Today's topic is quite different from what we usually talk about here. No version of iceScrum or new feature for your favorite tool (don't worry you will get some very soon), but a presentation of a brand new product we just launched this week: Kagibox!
For a long time, our team has been thinking of a physical Scrum/Agile product to help both experienced teams wanting to take the best out of their good old physical Scrum board and novice teams that are discovering new practices. Of course we think software tools are highly valuable (that's why we build iceScrum!) but we don't think that they have to be opposed to physical tools. Actually it's quite the contrary: they complement each other to help teams succeed.
The idea started materializing a few months ago. We needed some planning poker cards to animate training sessions so we made some researches on the Internet. We found some nice products but overall the offer wasn't that good. Thus, we started thinking about what we could do to improve upon this and make a truly innovative product for teams practicing Agile methodologies. Kagibox is the result!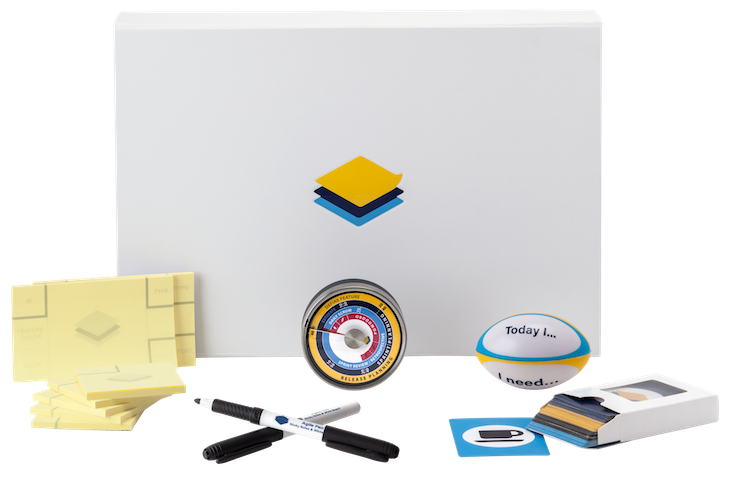 More than ever, meetings are one of the most time-consuming activities in the workplace. We cannot avoid them, they are often troublesome and rarely result in truly effective working sessions. Addressing this issue is one of the greatest challenges in today's world of work. Improving the quality of meetings, making them more efficient and effective, and even making you eager to go to your team meetings is the purpose of Kagibox.
We asked ourselves: what are the biggest issues of meetings?
They always take longer than expected and are often a waste of time
Communication quality is poor, everybody is talking at the same time except for introverts (whose ideas are overlooked)
They rarely stick to the original subject so they don't fulfill the expected goal
These issues are directly tackled by our product. With Kagibox:
Keep track of time and schedule the meeting according to its goal thanks to the Smart Timebox
Enable efficient communication with the Talking token and Planning poker cards: everybody's voice is heard clearly
Materialize and keep a record of the meeting outcome thanks to Stor'it and Task'it sticky notes and the Agile pen
Thanks to its set of high standard and easy to use items, Kagibox will make you like your meetings again, while improving the quality of your work, your team spirit and your productivity.
To discover all the items of Kagibox in details and order one, go to https://www.icescrum.com/kagibox/.
Cheers!!
---
Previous post: